The capital of Catalunya
Barcelona city is the economic, cultural and administrative capital of Catalonia. The city is perfectly located; it's the geographical position for sea lovers that helps to make this place so special. The city is in a great location close enough to the Pyrenees mountain range that sits between Spain and France. The proximity to Barcelona gives such varied weather conditions that sailors love. Barcelona has evolved into a masterpiece of civilisation that millions flock to each year, they soak up the vibe from the diver's culture that thrives on the city's energy and surrounding areas and along the shores of the Mediterranean Sea. Here you will find friendliness and warmth typical of the Mediterranean character, a pleasant year-round climate and enviable quality of life for those lucky enough to call this home.
From any marina in Barcelona city centre, you can reach world-famous sailing destinations quickly. Palma de Mallorca, Ibiza and Formentera, the French Riviera and Sardinia in Italy, are all a leisurely sail from Barcelona. The Network Yacht Brokers Barcelona office is in Port Ginesta Marina, just a short distance by car from the city centre. All of the above is why we see the capital of Catalonian as the perfect launchpad for any Mediterranean boating adventure.
Barcelona, a magical city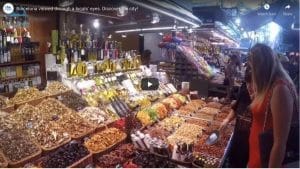 It's fair to define Barcelona as a magical and charming city. brimming full of excellent restaurants, bars, cafes with food and entertainment available from around the world. The town is multiethnic, artistic, cultural and adictive.
Its residents say that it is a dynamic, cosmopolitan city of contrasts. A city bounded by the sea and its fascinating history enriched by the buildings where broad avenues and modern skyscrapers coexist alongside narrow medieval streets and contemporary urban life.
We believe Barcelona can satisfy every type of individual requirement. In fact, there are almost too many first-class restaurants and places to spend the best moments with your family or friends.
Moving around Barcelona city
Flying into the international airport also knows as El Prat is quick and easy. The airport is a major transport hub where more than 100 airlines operate. El Prat handles domestic and international flights such as Easy Jet, Ryanair, and Vueling are just a few of the daily low-cost flights that will arrive from all parts of Europe. Flights from the UK often cost less than it would cost to travel from Manchester to London.
Barcelona has an excellent transport system that makes it easy for everybody, even tourists and newcomers, to get around the city. The city's transportation network extends from the city centre to other parts of the metropolitan area and surrounding towns and cities. The Barcelona metro system is the and fastest way to move around. The city's underground trains are clean and comfortable. The town has over a hundred bus lines that provide transport links throughout the Barcelona metropolitan area.
Three marinas of Barcelona
Barcelona has one of the busiest ports on the Mediterranean. Numerous cruise ships set sail from the port of Barcelona to other destinations. Ferries also dock and depart from the port. You can get to Barcelona by boat from the Costa Brava, the Balearic and Canary Islands, Genoa and Rome.
Marina Vela
Marina Vela is a big marina close to the city centre and the beaches. You can reach it quickly with your boat or yacht from the open sea. This marina provides several innovative facilities and quality accommodation like the famous Hotel W. There are 136 moorings, all with first-class services to hand.
Walking along the marina, you can see elegant yachts and ships. There is a pleasant promenade around the port reaching Barceloneta beach, the main beach in the city. This area is always busy, full of tourists and young people having a great time. Also, it's common to eat a typical Paella dish while looking at the fantastic boats.
Olympic Marina
Barcelona's Olympic Marina is the perfect place to enjoy all types of leisure activities. It's very close to the city's most popular beaches, better known as La Barceloneta. It is one of the most exciting tourist spots with an extensive restaurant and clubs choice. Olympic Marina is vast, with 740 moorings including 85 modern commercial establishments.
You can see the two famous identical buildings, the Art Hotels and Mapfre Tower. Many restaurants serve typical local seafood as "La Paella", and along the beach, you can take a mojito in a Spanish beach kiosk, called "Chiringuito".
Port Forum Marina
Port Forum Marina is another big marina surrounded by palm trees, It's is situated in the most rural part of the city and therefore one of the prettiest locations to keep a boat. There is a direct connection to the city centre from Port Forum by public transport through the closed metro station Maresme/Forum. Port Forum has a private dock with 170 berths and an outer wharf with 31 berths for bigger boats. The berths provide all the most up to date services.
Close to the marina, there is a more significant shopping centre in Catalonia's, called Diagonal Mar. It is a massive three-story shopping centre; it's home to some of the most exclusive shops, cinemas, restaurants and recreation activities one can find in Spain.
More about Barcelona on our European Yacht Charters website.
Even if you're just visiting the city for a weekend break or passing through, if you need some pointers on where to go and what to see in Barcelona City, please talk to us. We just love to talk about this place.