Port Ginesta is open all year
Marina Services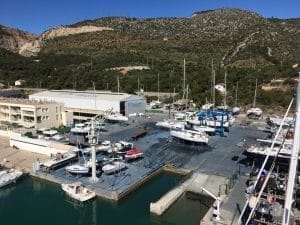 Port Ginesta marina services are very easy to access. Times below are for guidance and cannot be exactly relied upon.
Winter Season
(16 September – 1 April) Monday – Friday from 09:00 to 14:00 hrs and from 15:00 to 17:00 hrs. Weekends and Holidays (see the notes on holidays)
Summer Season
(1 April – 15 September) Monday to Friday from 9:00 to 19:oo hrs. Saturday from 9:00 to 14:00 hrs
Please notice that Sundays and Holidays services are closed.
Please notice that holiday times in Catalonia are not the same as the rest of Spain. 
---
Service Information
The Port Ginesta Marina Office, in Spanish Capitania, is where you can make a reservation for a berth and report with documents if you are on a visiting. Wi-fi is also available from the Port Marina office paying a ticket. Channel 9 VHF if monitored. Network Yacht Brokers Barcelona is also an excellent source of free information about the area.
Port Ginesta Marina Office Tel. +34 93664 3661 / +34 677 527 008
Email: info@portginesta.com
---
Slipway Service Hours of Availability
The winter season is extended (November, December, January, and February) Monday – Friday from 09:00 to 14:00 hrs and 15:30 – 19:00 hrs. Weekends and Holidays (see the notes on holidays). Saturdays from 09:00 to 14:00 hrs. Sundays closed
Later Summer and Autumn (August, September, and October)
Please note that August is considered by most in Europe to be a busy time, however, local customs dictate that in August the Marina operates limited hours.
Monday to Friday from 09:00 to 14:00 hrs and from 15:00 to 18:00 hrs
Saturdays from 09:00 to 14:00 hrs
Sundays closed
HIGH SEASON (March, April, May, June and July)
Monday – Friday from 09:00 to 19:00 hrs
Saturdays from 09:00 to 14:00 hrs
Sundays closed
---
Marina services, the Shipyard
Secure by a fence and next to the water is 6,500 m2 of boatyard space with a smooth solid base. The outdoor yard is next to an Indoor facility of 1,500 m2 dry workshop space that extends to a further 200 m2 of professional spray and hand application paint shops.
All the yard and workshop areas can be serviced by a 75-ton travel hoist. In addition, Port Ginesta Marina has other lifting options that include a 6-ton derrick boom with a hook height of 12.5 meters, 1-ton derrick boom, 8-ton hydraulic trolley. Forklifts trucks are also available 7 and 3-ton capacity.
Here available Port Ginesta Tariff 2020.
Boat owners can book the berth through our office, we offer great discount from the marina standard prices.
Dry Storage
June to September from 09:00 to  19:00 hrs
October to May from 09:00 to 14:00 hrs
Facilities Description
Located within the grounds of the Port Ginesta Marina boatyard you will find many open racks for jet skis ribs and small boats. Lift in and out of the water service is quick and simple using an electric small boat crane. Hard standing during winter periods is available behind the workshops. It is well sheltered and protected from all sides. Buildings on all sides offer protection from winds. Security visibility is excellent. Port Ginesta is probably one of the safest places to leave your boat in Spain, we highly recommend it.
Port Ginesta Marina offers low-cost winter storage packages for all types and sizes of boats and yachts. Trade deals are available through our office.
---
Parking 24-hour security
Port Ginesta Marina has within its secure boundary more than 1,000 parking spaces. 20% of areas are reserved, disabled users. Yearly subscriptions are available for Marina based business and berth holders. All other visitors pick up a ticket at the gate and pay per hour. If you are visiting Network Yacht Brokers Barcelona, ask for a parking pass when you are in our office.
Fuel 24-hour self-service
Fuel is available at a long and easily accessible fuel berth next to the Marina Office. If you are arriving by sea, you will find the fuel pontoon easily when you navigate to the centre of the Marina.
Waste disposal services
Waste collection is one of the primary functions undertaken by the Port Ginesta staff. Ever vigilant the marina berthing masters who travel round in small vehicles on the daily hunt for litter. Ample waste bins are discretely placed around the port. Port Ginesta Marina staff are dedicated to recycling and the reduction of plastic in the harbour, please think about the environment when you consider using plastic. Bilge and greywater suction station and portable suction pump used to evacuate holding tanks are available. Please contact the marina office for more information about this service.
Mooring and Port Ginesta Marina
1500 serviced marina berths are available in Port Ginesta. Larger boats and yachts will be located near the sea entrance in what is known as the new marina area. Smaller outboard and sports boats are kept well back from the Marina entrance as this gives excellent protection from in poor weather. Large craft berth along the Marina wall and enjoy easy access to the sea while getting maximum protection from the seaward side of the marina. Other services as wi-fi, diving and laundry can be arranged through the main Marina Office.