Marina Berth For Rent In Spain
We specialise in offering low-cost Marina Berth for rent in Spain. We will also provide information and help boat owners who want to buy or sell a boat or yacht in Spain. From our base in Port Ginesta Barcelona, well placed to negotiate the best terms for you; we always offer a lower price than the Marina tariff. Special terms are available for commissioning and transporting new and used boats.
About Catalonia
Barcelona is the principal city of Catalonia. Some argue it should be the capital of Spain. Madrid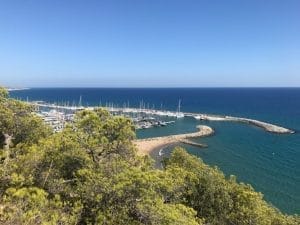 holds this City title, but for many years Barcelona has been the financial centre of Spain. Barcelona is also one of the most visited cities in Europe, with visitors coming from all points of the Globe. In the centre of Barcelona, the international language of English is widely spoken. One does not need to travel far from the city to find that the use of English fades and Catalan takes over. Spanish is also widely spoken in the region, but Catalan is the dominant language. Many countries have a dual language, which can be why fewer than other places in Spain learn English.
It is no secret that some Catalonian residents would like to operate independently from Spain. In recent years politics about this subject has held back the natural growth of this intellectual region.
The Costas
Costa Brava runs from the French border past Roses and Gerona to a point just North East of Barcelona. White sandy beautiful beaches adorn all the Costas (Coasts) in Spain, but few rivals the beaches' beauty in Catalonia. Situated in the North East of Catalonia, the Costa Brava does suffer from a calm northerly wind. Cold air falling from the Pyrenees mountains during winter and spring can test and drive this chilled wind. Strong wind warnings are a feature of the Mistral along the southwest corner of France. The Coast along the Costa Brava is a little rockier than you will find as you progress south past Barcelona. Some of the bays in Costa Brava are beautiful.
Marina Berthing for rent is plentiful, from the mega-resort of Emporia Brava close to Roses to the simple Catalan marina with just a few local fishing boats.
Costa Del Maresme
Least well known and no doubt because Barcelona sits in this region and dominates the language. Relatively flatter and slightly industrialised, Costa Del Maresme has many first-class beaches and resorts. Marinas in Barcelona's centre are very popular but more challenging than town locations. Pricing from one Marina to another varies a great deal. English is not always understood and can often result in a feeling that you're not wanted through a phone inquiry.
Costa Garaf
Our home base, Port Ginesta, is the biggest marina in Catalonia, with over 1500 marina berths for rent, so you can always be sure of a warm welcome. Port Ginesta has a beach within the Marina complex, locally known as the private beach. This beach is small but is open to the public. Tucked away in the southern corner of Port Ginesta, it offers a degree of seclusion that the main beach of Casteldefells cannot give. It's also travelling a little further along the coast to Sitges where more great beaches can be found.
Castelldefels
The main beach in Castelldefels runs from Poort Ginesta Marina entrance for about 6 kilometres. A wide cycle path runs along the entire length of the beach. Apart from a short section, the cycle path is hidden from the road. Thousands of people visit the beach daily in the summer, and hundreds enjoy windsurfing. Next to the entrance of Port Ginesta, you can find a section of the sea for surfing where perfect waves crash onto the sandy beach. In the summer months, beach bars keep visitors refreshed and fed. All sorts of sports are available on Castelldefels Beach, from volleyball, windsurfing, dingy and cat sailing, or simply swimming in the warm waters of the Mediterranean.