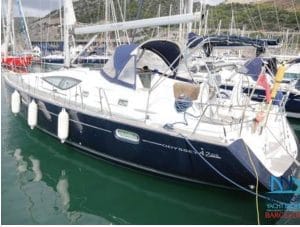 If you're looking to buy a stunning Yacht, then this Jeanneau 42 DS available through Network Yacht Brokers Barcelona could be the one you're looking for. She is lying in Port Ginesta and is in exceptional condition, and we strongly recommend a viewing. The Jeanneau 42 DS was one of Jeanneau's most popular yacht models ever made by Jeanneau. It preceded the now legendary 43DS Yacht. This 42DS "Free Spirit", as she is known, had most of the options boxes ticked when she was first ordered; they include a blue hull and teak decks. She is a stunning example with her current condition a credit to her owner.
If you are thinking of moving a yacht to the Mediterranean, please visit us. You will find our office in Port Ginesta Marina, it's next to Barcelona City and literally ten minutes from Barcelona International Airport. Port Ginesta is a great location for collecting, delivering or even keeping a boat or yacht. This is thanks to such easy access by sea or land.  Many people that come to visit never leave as they discover Port Ginesta. It is next to one of the most popular cities in Europe if not the World "Barcelona".  It's a must-visit city with a Marina based in the city centre just a short distance away. From Port Ginesta in the opposite direction to Barcelona, there is the pretty holiday resort of Sitges. It has a small marina compared to the 1500 berths available in Port Ginesta. However, visitors are always welcome.
We offer a low-cost delivery service from the Balearics. Also, we offer a free project management service for boats that need to be shipped by either sea or road transport to and from any destination in Europe.
Please do visit the history of Barcelona page on our website.