Address
Port Ginesta Local 813
08860 Castelldefels
Barcelona Spain
Monday to Friday 10:00AM–6:00PM
Tel: +34 937 97 82 40
Email: info@nybbarcelona.com
Our office is located in Port Ginesta Marina. We are only ten minutes by car from El Prat International Airport of Barcelona and 20 minutes from Barcelona city centre. The area is well connected with public transport. You can take the train from the city centre Sants Estació or Paseo de Gracia train station and reach Castelldefels Beach ¨Castelldefels Platja¨ in about 20 minutes; the train to take from Barcelona toward Vilanova y la Geltrú, is the only train that stops in Castelldefels Beach!! To reach the marina, you can walk (about 30 min), take the bus L94 (10 min) or call a taxi (it is only 5 minutes by car). Don't worry. If you get on the wrong train in Barcelona, get off at Castelldefels and get the bus or Taxi to the Marina.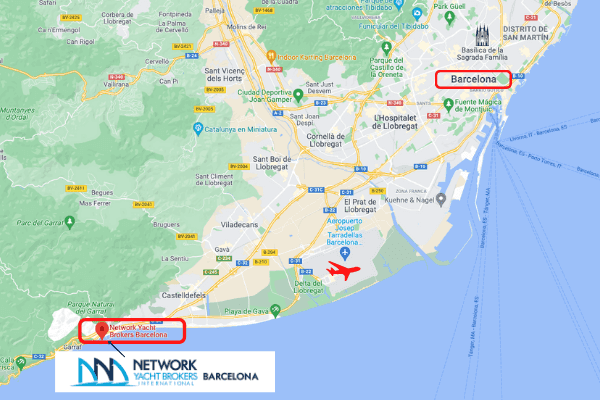 We operate a no sale, no fee policy. Sell Your Boat With Profesional Brokers, and If we don't sell it, you pay nothing, ensuring we work hard to make a sale. Our staff accompanies all viewings, and we operate a parcel drop off service saving you time and money. Our customer enjoys the privilege of having parcels delivered to our office in Spain. This simple parcel drop service lets you order online and collect when you arrive at the marina in Port Ginesta. All our customers can use this free service, please contact us for more information. Network Yacht Broers Barcelona also operate offer a low-cost marina berthing alternative to using the Marina office. We will save you at least 15% on marina standard berthing in Port Ginesta. Private Marina berths are also available for rent and to buy.
Contact us for more information.
For information about European Yacht Charters please follow the link

From our base in Port Ginesta, Spain, Network Yacht Brokers Barcelona sell boats to a global market. We received clients from Canada, the USA, South America, even Australia. Barcelona city is an international attraction, so transport links to Port Ginesta are second to none.
It's no wonder Port Ginesta became internationally renowned for boat commissioning and service, chosen as a sea trial base for Group Beneteau.
Address
Port Ginesta Local 813
08860 Castelldefels
Barcelona Spain
Monday to Friday 10:00AM–6:00PM
Tel: +34 937 97 82 40
Email: info@nybbarcelona.com