Address
Port Ginesta Local 813
08860 Castelldefels
Barcelona Spain
Monday to Friday
10:00AM–6:00PM
Tel: +34 937 97 82 40
Email: info@nybbarcelona.com
Our office is located in Port Ginesta Marina. We are only ten minutes by car from El Prat International Airport of Barcelona and 20 minutes from Barcelona city centre. The area is well connected with public transport. 
From Barcelona you can take the train from the city centre Sants Estació or Paseo de Gracia train station and reach Castelldefels Beach ¨Castelldefels Platja¨ in about 20 minutes; the train to take is toward Vilanova y la Geltrú, it is the only train that stops in Castelldefels Beach!! 
To reach the marina, you can walk (about 30 min), take the bus L94 (10 min) or call a taxi (it is only 5 minutes by car). Don't worry, if you get on the wrong train in Barcelona, you can get off at Castelldefels and get the bus or Taxi to the Marina.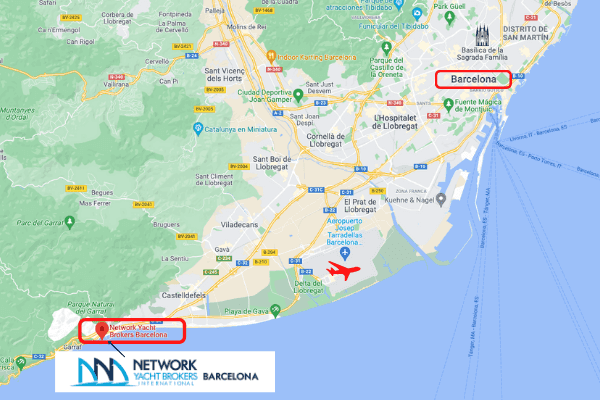 Sell Your Boat With Profesional Brokers, and if we don't sell it, you pay nothing, ensuring we work hard to make a sale. We have lots of buyers for boats just waiting for that dreamboat to come onto the market.
In exchange for allowing us to sell your boat, we can offer you a low-cost professional brokerage service. We photos and a video for every new listing, and it is featured on our YouTube Channel for free.
Our staff accompanies all viewings and sends you each feedback we receive on the boats. In addition, if you are not visiting the boat often and we see something wrong with it we will communicate with you immediately and we can provide engineering service as soon as possible.
 We have a parcel drop-off service. Our customers enjoy the privilege of having parcels delivered to our office. All our customers can use this service, please contact us for more information about this service.
Would you like to know more about this fantastic area? Please follow us on Facebook or Twitter, and we will keep you updated. We post interesting news articles on our pages, from a simple photo of us enjoying the life around Port Ginesta to serious boating news.
Anything marine-related can find a place on our Network Yacht Brokers Barcelona site. We will also be developing this site with useful information about hotels, restaurants, and bars in the area, along with all the information you will need to get the most out of a visit to Barcelona city. We have created a Port Ginesta History page so that you can find out more about keeping your boat or yacht in this busy marina.