Sitges, The Carnival Town
Sitges is a little village close to Castelldefels. The town is renowned for the beauty of its beautiful sandy beaches alternating with high and rocky coasts. White houses overlooking the sea are very typical. The centre consists of an up and down stone alleys, numerous bars, nightclubs, and restaurants.
It's just a short distance from Port Ginesta to Sitges. You can reach it by sea stopping in small deserted beaches or by car using the coastal road finding many viewpoints. And, if you are in a hurry there is a quick toll road. Sitges is one of the most popular tourist destinations in the Barcelona area. It's well-known for being the Spanish Saint-Tropez, but also for having many historical places of interest. Although, it's mainly known for the unique Carnival party celebrated in February.
Aigualdoç, Sitges Marina
Aigualdoç Marina is a well-equipped marina with 742 moorings.  Besides, it's a summer tourist destination thanks to its first-class restaurants and many bars. It offers fantastic traditional cuisine, like the Spanish Tapas and Paella. You can have a delicious lunch on a terrace by the sea, with Latin background music. We strongly recommend trying this experience. From the Marina, you have access to Aigualdoç beach, very nice and comfortable. This beach is perfect for those who are passionated in surf and SUP. A volley pitch is available. Each summer this beach is full of life with her community of tourists and resident. It is plenty of lifeguards so the beach is very safe for children and old persons. This is a great place to relax and have a beer looking an amazing sunset.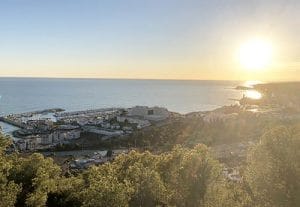 Follow the news about Sitges, see the link Sitges News on our site. We are collecting actual news about the city and post them on our site.