A Spanish Marina in Catalonia, Sant Carles Marina Tarragona Spain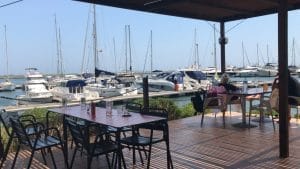 Sant Carles Marina is owned and operated by MDL, a British leisure and resort company. The only Marina they own outside the UK is a treasure for boat owners during the long summer months of Mediterranean warmth. This Marina is a couple of hours south of Barcelona. It's not a huge Marina but has a good mix of power and sailboats.
Network Yacht Brokers Barcelona attracted a good number of listing from Sant Carles Marina, one of which finally came north to Port Ginesta Barcelona so that we can deal with potential sales daily. We had a busy day preparing the yacht to leave Sant Carles Marina, as the owner had not visited her in more than one year.
As this Marina is set slightly inland, surrounded by fields and marshlands, fouling is a particular problem. So regular washing of boats in the Marina is essential to keep the marine environment from a residence on your boat.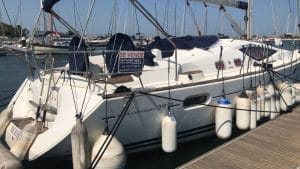 Mission accomplished for the Jeanneau 39 DS Yacht we now have for sale in Port Ginesta. We gave her a good scrub for the owner, who then journeyed up the coast to our home. She has a vast inventory, including electric winches, bow thruster, air conditioning, and a neat solar panel system to keep the start battery fully charged.
If you want a yacht with an interior best described as "as good as new", please follow the link and look at this beautiful example. The photographs in the specification were taken by ourselves when she arrived in Barcelona in August 2021.
You can view all our boats available here