Known as Venice of Spain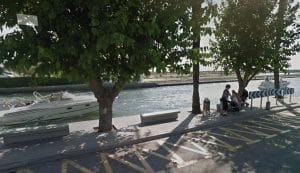 Empuriabrava is a luxurious community in the municipality of Castelló d'Empúries. Found in the Gulf of Roses, surrounded by the Natural Park of the Aiguamolls de l'Empordà, is the largest residential marina in Europe. Built-in 1968 on a swamp, Empuriabrava was transformed into a tourist community, initially planned in 1964 and completed in 1975.
Crossing the French border to Spain by motorway using the AP-7 or national road N-II. Girona-Costa Brava is the nearest airport, an essential base for Ryanair and summer you could use a bus to the town. The major international airport Josep Tarradellas (Barcelona-El Prat), is located 160 km to the south, around two hours by car. To the north of the town, the aerodrome ICAO offers a variety of air sports with services for all levels of skydiving. 
Although the presence of bridges on most canals restricts the entry of motorized and sailing boats with an air draught (the height above the waterline) of more than 2.8 meters, still the 23 kilometres of navigable canals offers 5,000 moorings for all types of boats, 700 of which for boats up of 26meters in length.
At the marina of Empuriabrava, you could find several other marinas: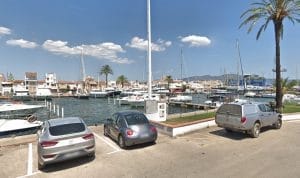 The port of Roses with a capacity of 485 moorings. The Club Nautica L'Escala, which has 957 moorings for ships of up to 22 meters in length. Sant Carles Marina, which can accommodate up to 842 boats with a maximum length of 33 metres. The Nautic Estartit club has 680 moorings for yachts and boats. Calaf port (San Jordi) with a capacity of 324 moorings. The Alcaidesa Marina, with 624 moorings for boats from 8 to 90 metres in length.
A popular tourist destination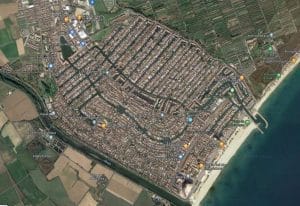 A magnificent lakeside town on the Costa Brava, the Empuriabrava Marina is a popular tourist destination. You can find Luxury villas with private moorings and a swimming pool. These are the most expensive accommodations in the region. Properties are called "town house" or "fisherman's houses". They are located along the canals, and each one has its own private mooring. Flats with access to the canal and moorings. There are more than 57 businesses, including nautical shops, restaurants and bars, charters, sales and maintenance-repair offices. Empuriabrava beach is awarded the distinctive Blue Flag, so you can enjoy your stay to the fullest. You can also practise sports such as windsurfing and kitesurfing, or charter a yacht thanks to the famous wind Tramontana. 
Empuriabrava, the unusual town in Costa Brava