Network Yacht Brokers Barcelona Office is open at last!
It's been fairly straight forward to get the Barcelona office up and running. We are part of the Network Yacht Brokers Group.  We share boats and yachts for sale all over Europe.
The office will be run by the multilingual Chiara Campagnaro, who will be supported by the combined marine knowledge of 17 other NYB Offices.  The office in Port Ginesta is only ten minutes drive from Barcelona International Airport. Chiara is well placed to collect our customers from the airport should you want to view one of our boats in Port Ginesta or Sitges.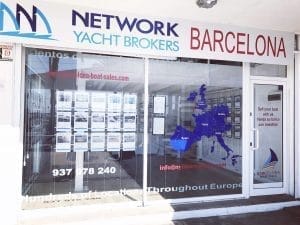 If you have a boat in Barcelona for sale we are currently offering a 50% Brokerage discount for the first 100 local listings. We are happy to share Brokerage listings with other Brokers. Selling your boat with us will reach millions of potential customers all over Europe. No other Yacht Broker advertises on as many websites as ourselves.
Why not talk to Chiara today about selling your boat? If you are in Spain call  [+34] 937978240 or from the UK 01492 580001 (ext. 204) this will transfer you on our internal phone system for free to Barcelona.
---
Barcelona, the perfect place for sailing lovers 
Barcelona city is the economic, cultural and administrative capital of Catalonia. The city is perfectly located; it's the geographical position for sea lovers, the city is in a great location close enough to the Pyrenees mountain range that sits between Spain and France. This proximity to Barcelona allows such varied weather conditions that sailors love. Barcelona evolved into a masterpiece of civilisation that millions flock to each yea, simply to soak up the vibe from the diver's culture that thrives on the city's energy and surrounding areas. Shores of the Mediterranean Sea.
Read more about Barcelona
---