Van der Heijden Beautiful 57-foot sailing Ketch sold by Network Yacht Brokers Barcelona
This Van der Heijden Beautiful 57-foot sailing Ketch Was was built in Holland in 1987. Continually updated over the past 15 years by the last owner, the new owner has opted for a lifestyle change; we're sure he will enjoy his new yacht
Since being first commissioned, the yacht has only had two former owners, she's not a fast sailing vessel, but we'll keep The new owners safe in all weather conditions. She has crossed the Atlantic twice and spent eight years cruising the Caribbean. Take a look around this fantastic yacht.
Best Wishes and many happy sailing years to the proud new owner from all at Network Yacht Brokers Barcelona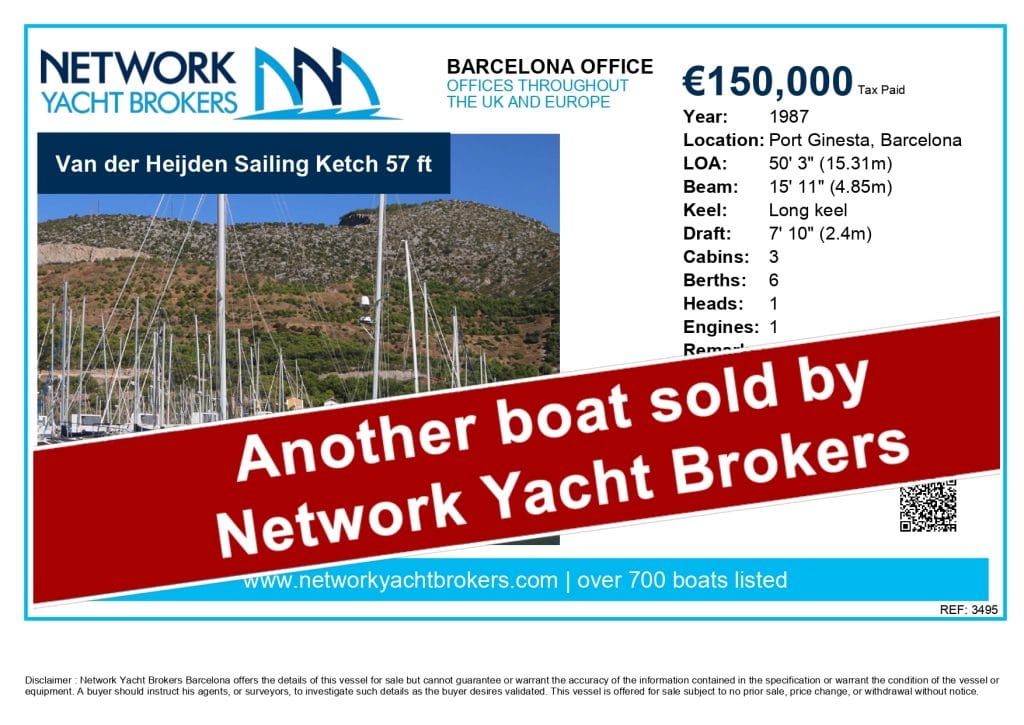 Bedouin is a beautiful 57 feet one-off wood sailing KETCH built- in 1987 in Holland by the Dutch luxury yacht builder Dik Van der Heiden.
The design is from the pen of a famous designer De Vries Lentsch who started as a builder and designer of wooden rowing boats in the port of Amsterdam. This yacht has been continually updated over the last 15 years, with invoices available.
Main jobs:
– the engine was rebuilt in 2019
– teak coach deck in 2019
– teak deck in 2014
– hydraulic steering hoses pump x ram in 2019
– radar for the chart plotter in 2019
– fridge in 2018
– gas cooker in 2018
The boat hull is constructed by a west epoxy system 40 mm thick. In the saloon, there is a sample cut from the hull. It is beside the music unit. It is 10cm x 10cm. The hull is cold-moulded triple-planked.
Last antifouling 2019
Last time out of the Water 2019
Additional Comments from the current owner 20/08/2021
I am the second owner of the Bedouin; she was built by her first owner, Dick Van Der Heijden, in Holland. The Bedouin is not a fast sailing vessel in the true sense, especially if sailing against a fin-keel yacht. The Bedouin was built for circumnavigation, not racing. She said she makes a perfect time on ocean crossings from Cape Verde to Trinidad in 17 days. Bedouin is a yacht that takes a lot of wind; she happily charges along In 25 knots wind all day. I have crossed Biscay in force nine, not that I set out to…. but the weather does not always do as we would like. Bedouin handled this crossing without problems; she has also crossed the Atlantic twice in my ownership and a few times in the hands of her former owner.
I have had Bedouin in the Caribbean for eight years, sailing up and down the island with my young children on board.
She is a safe and spacious platform for families sailing an excellent liveaboard. Also, central heating is on board if you travel to colder climates. To describe her sailing characteristics in 15 to 25 knots, she is like a train on rails stiff and comfortable.
I have some line drawings, but they are for her sister's ship, which has an aft cockpit. Keel bolts are original; if not, I have not replaced them. There is no wood rot; the deck was replaced less than five years ago in St Maarten and laid on thick marine ply.
The hull is Brazilian hardwood, a minimum of 4 centimetres thick. It was constructed in the West Epoxy system.
Two years ago in Palma, I refitted the aft coachroof deck along with the windscreen frame Battery house bank, engine start battery, and Genset battery; the engine was rebuilt, along with a new chart plotter and new radar system. The steering ram and all Hydraulic hoses have been replaced. All of the above work was done simultaneously.
The galley has recently been fitted with a new fridge and cooker; a freezer is on board.
I have constantly kept the boat updated in the last few years.