Expensive Extras that are worth paying for
My top ten list of optional extras will add value to a yacht on the used market. Some upgrades are expensive but not generally considered important to a used yacht buyer. See my post before buying a yacht three for expensive factory fit extras with little value in the used yacht market.
Solar Panels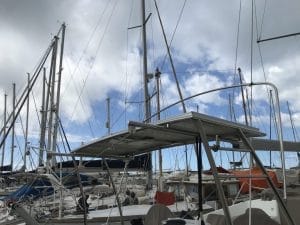 As solar and electronic boating equipment becomes more efficient, enhancing the sun's power when at sea enables more freedom. Sailors love freedom, so solar panels are certainly close to the top of my list of things that enhance the value of a used yacht.
Bow Thruster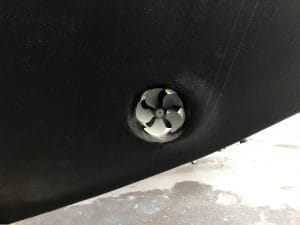 It takes time to acquire manoeuvering skills for a reasonable size yacht, especially around a small harbour or marina. Even a well-practised skipper is glad of a button to press in a time of need. The reality is unless you are moving boats regularly, then even professional skippers can have difficulties.
Autopilot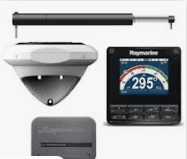 A modern quality autopilot is worth its weight in gold (as they say). If you are sailing short-handed, then it is almost essential on a reasonable size fin keel yacht. I can argue an exception if you sail a long-keel yacht. It is possible to set sails, add a little weather helm and keep on trucking(as they say). Clearly, locking the helm will require navigational input over time, but it's great fun!
Chart Plotter Combined Radar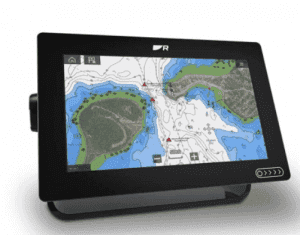 Once upon a time, as plotters became more graphic, skippers would have two plotters, one at the nav table and one on deck. The reality is little from most leisure sailing little time is spent below at the chart table. As plotters have become bigger, brighter and more weather resistant, it makes sense to use them as a glorified sat-nav. When approaching an unfamiliar harbour, it is very reassuring to glance at the plotter and see your position from a different perspective. Unfortunately, navigation equipment is updated so fast that I would only buy a plotter catered to my needs. I would not spend additional money buying an electronic anything because I thought it would enhance the value of my yacht. Next season, a new owner will want to update to the latest gadgets.
Electric Winch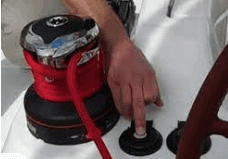 One electric winch on the coachroof is enough for most people. It will save you lots of work grinding up or pulling both the main. You can also use it to hoist a buddy aloft or rig up a pully and recover a dingy or person. One can find all manner of uses for an electric winch on the coach roof.  I do not see a need for an electric winch on any yacht smaller than 13 metres.
Folding Propellor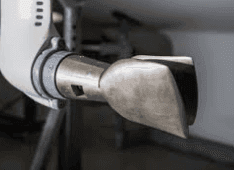 For many years, I selected reverse when sailing to save wear and tear on my yacht gearbox. They said that components inside the gearbox are fixed and wearing (sounds reasonable) because the prop stops spinning. They also say that a fixed propellor creates less drag than a free-spinning prop (no idea about that). Then I met some people who sailed the Atlantic having to replace a gearbox on a fairly modern yacht. Apparently, selecting reverse to lock the propellor over long periods of time puts a strain on the gearbox clutch that can cause It to wear out (wow, I never knew that). The solution, if you are concerned, is a folding propellor. Anyway, it's a lovely thing to have, and a buyer for your yacht will be happy you invested money in one.
Fresh Water-cooled Engine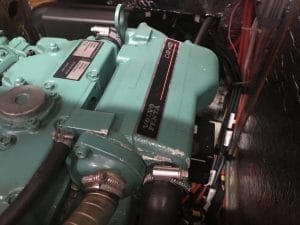 This one is worth another post. My advice if I had a choice to make pay a little more for a fresh water-cooled engine. Link to a post on the subject to follow
Boat Heating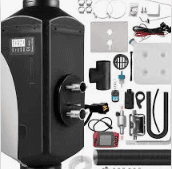 Boats in northern climates can be damp smelly places. A boat heater will not only keep you toasty warm in the evenings. It will drive out dampness and protect your investment. Link to another post
Air Conditioning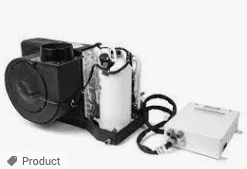 Perhaps the Dyson fan will work well in smaller boats, but Air conditioning with a reverse cycle heat setting will transform the pleasure of sailing when you can hook up to shore supply. Lots of Mediterranean Marinas do not charge for electricity. They see it as part of a package deal. So from the moment you arrive until you depart, you can keep the yacht chilled to a perfect temperature if you are based in a marina. Just like heating, Air conditioning will transform your boating experience.
Factory Fitted Generator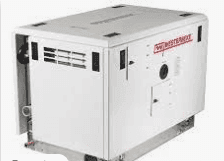 If you plan to spend a lot of time at anchor and are spicing up a new 15 metre plus yacht, then a factory fit generator might be on your list of extras. It only made my list because I wanted to comment on the big difference between fitting a low-cost aftersales unit to a proper factory-integrated unit. A Lot of research is needed if you are going down the generator installation route. In my experience, few companies are capable of saving money on a factory-installed unit.