Dealing with a smelly boat loo (Marine Heads)
How to stop smells in my boat? It is well documented that most smell in a boat loo come from decomposing microscopic marine life. Saltwater teems with life and is used on most boats to flush a marine head. Therefore, if the saltwater is not rinsed with freshwater, like milk or fresh produce, it goes sour. You can buy all sorts of chemicals to deal with the problem. I never used any marine cleaning product. I will explain my method of avoiding a smelly loo below. Before you read that, if you suffered from a smell in the Heads compartment for some time, you might need to replace the piping. I know customers use all sorts of chemicals to eliminate a persistent smell. In the end, replacing the flexy waste pipe can be the only solution as that pipe can become degraded.
I will not get into the complex holding tank setup as the subject is worthy of another post. Let's assume you only seek guidance on keeping a marine loo smell-free.
Keeping the Heads smelling fresh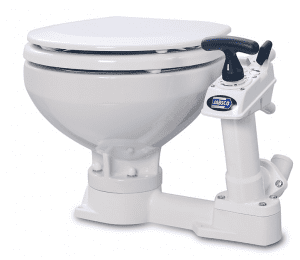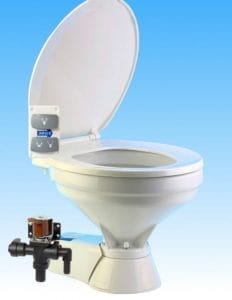 Most boats and yachts have a head setup similar to the image on the left showing a Jabsco manual loo. Perhaps you are lucky enough to have a quiet flush electric loo? A similar principle applies. However, the electric loo does not have a hand pump and the modern ones are flushed with fresh water, as shown in the right-hand image.
Hand-pumped seawater heads have the potential to be very unhygienic. The pump handle shaft can spread lots of bacteria and is often contaminated with water passing the housing top seal.
My method of flushing includes using the hand shower freshwater system to rinse any remains of seawater from the loo system finally. This way of cleaning the loo after use has many benefits. I also leave a bottle of baby oil in the Heads compartment giving a final squirt into the bowl before pumping this out. When the seal is worn, the liquid will get onto your hands as you use the pump. That's not good at all! The baby oil helps to add a little life to the seal that sits below the handle.
Rinse the loo with fresh water at least once a day.
Most marine compartments have an electric bilge pump that evacuates shower water. The compartment should be fully waterproof. So rinse the loo and then rinses down the compartment with fresh water at least once a day. Most boats carry an abundance of freshwater. It is essential to keep this water flowing, so liberal shower use cannot harm. Far too often, I talk to people who believe fresh water should be rationed. If you keep a boat in a marina, freshwater will look after your investment, and you should use lots of it.
Clean your bilge
The same principle applies to the above, although a slight word of caution because some marine operators get upset if you start pumping bilge water into the marina. So for the sake of being correct, let's assume you are in a place with no restrictions.
Using plenty of hot soapy water
Washing your bilges with lots of fresh soapy water will eliminate most bilge smells. Greasy substances can be first dissolved using plenty of hot soapy water. The choice of chemical you use rests on your conscience, but for me, a concentrated household liquid soap (the same you use for dishes) works as well as anything I found in any chandlers. You also have the advantage household soap is less expensive than a specialist marine-branded product.
Consider painting it after you have washed your bilge (I have used a steamer before). In my opinion, a boat bilge should always be dry and immaculately clean. I never found a boat with a clean bilge that had a boat odour issue. No matter how old your boat is, keeping the underfloor sections of a boat clean is always the best practice.
You are selling your boat. I have been a broker for many years. I am asked to assess the value of boats daily. It's clear to me that a boat free from nasty smells is the one that sells first for the most.
See our post-Diesel Bug in fuel tanks  and  Water in the Bilge Mystery
Links to other Post and Pages About us  / Testimonials / Sell Your Boat / Boats For Sale  / News Posts / Boats For Sale News Post / Yacht For Sale Posts / Boat Maintainance Posts / Spain information Posts / Living on a Boat Posts  / Marina Berth for Rent Spain / Yacht Brokers Job Posts / Join Us / Yacht Syndicate /