Microbial contamination of diesel by Rob Woodward 
Diesel bugs are the most significant cause of a diesel engine breakdown. Sure, It's not the only cause of your engine stopping, but it's right up there with things you don't want to happen and can be easily avoided.
You're very unlikely to suffer this fuel problem in your diesel car or truck because the fuel in your car passes through the system relatively quickly. Diesel bug is often found in boats' fuel tanks with low fuel flow (not used daily).
My Background
I started sailing in 1992, and my hobby quickly became an obsession. In 1996, I moved to the coast and opened a marine engineering business in North Wales, UK. Before that, I owned a motor repair shop, having served an apprenticeship as a Deisel Mechanic looking after a fleet of trucks.
I owned several yachts over the years. I always modified the fuel system on my boats to avoid getting caught by the Deisel bug problem.
So what's the long-term fix?
Some boat owners use a Deisel bug treatment, and I recommend adding this to your boat fuel tank as a precaution when buying a used boat or yacht. Plenty of good products exist on the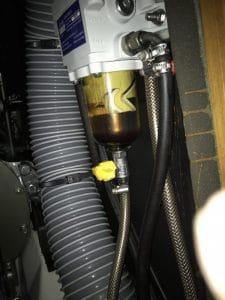 market; it takes little research to find a good one. Diesel bug treatment is not a long-term fix, so you must know if the problem reoccurs. My suggestion will warn you about diesel bug infection and save you the inconvenience of sampling fuel during your daily engine checks for water contamination, the other major cause of boating breakdowns.
The solution is to fit a Glass Bowl Water Trap in the fuel line. It is a necessary upgrade; I wish it were an optional extra from new on all diesel-powered boats.
Once upon a time, It was common practice to fit a Glass Bowel Water Trap in engine compartments. Regulations have stopped manufacturers from doing this. My understanding is they are considered this practice to be a fire hazard. The jury is still out on that rule, especially now that modern water traps have become more fireproof. To remain legal, If you want to upgrade your boat or yacht, the water trap must be outside the engine space unless someone can tell me otherwise.
A decent engineer will find a safe place for the modification that's legal and accessible. Probably good practice to keep the existing water trap and pre-filter system that will be most likely be housed in the engine compartment.
Canister water traps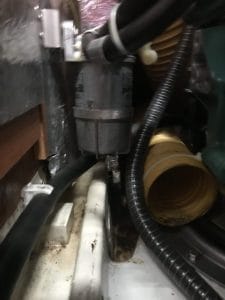 If you are happy to sample a small amount of fuel from a canister-type filter, that's your choice, but remember, every time you open the fuel system to drain down a sample, you will potentially allow air into the fuel system (and that's not good).  The other big no-no about taking a sample is Diesel stinks; it's like fixing your bike in your home's kitchen. To see half a litre of fuel without disturbing it or contaminating the results within a glass bowl is so simple. This is the fastest way to ensure you have no worries about the fuel supply on your boat. A glass bowl water trap can also be the first item to look at if your engine starts to stutter. If you get water in the fuel, it will show up in seconds.
Links to Pages About us  / Testimonials / Sell Your Boat / Boats For Sale  / News Posts / Boats For Sale News Post / Yacht For Sale Posts / Boat Maintainance Posts / Spain information Posts / Living on a Boat Posts  / Marina Berth for Rent Spain / Yacht Brokers Job Posts / Join Us / Yacht Syndicate /