Sitges is a great yachting centre, combining navigation and culture.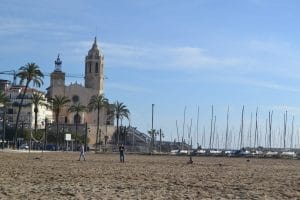 We love the town of Sitges at Network Yachts Broker Barcelona, ​​apart from sailing and boating, we like the culture and art it has to offer, and it is a pleasure for us to be able to share the latest information we have with you. 
Normally, in summer, the port of Sitges is filled with music. Events take place outdoors and cater for every taste in music and festival. Time to party in Sitges begins, between July and August most events are free of charge including the famous "Festival Concerts de Mitjanit.
The 2019 Concerts de Mitjanit offered a full proposal with different styles of music with a special tribute to the best female voices of all time.
Other festivals and events are listed below:
The Festival of the Virgen del Carmen, 

"La Gran Noche Lírica", 

The Sitges Big Band, short films with the collaboration of the International Fantastic Film Festival of Catalonia.

Urban Art Show,
All of this, was possible thanks to Sònia Felip, the director of the Foundation of the Port of Aiguadolç. To her, culture is everyone's heritage and she feels it of utmost importance but also great joy to bring it closer to the people of the port, boat owners or not.
Unfortunately, this year, the "Concerts de Mitjanit" is suspended for the first time in sixteen years due to the risk of contagion by Covid19. 
The port of Sitges and its Foundation have tried to resist until the last moment to continue celebrating it for another year.
Although they are following government guidelines, the current situation seems to be aggravated  and therefor it is better to be patient and wait for 2021. In these challenging times, they are forced to prioritize and make difficult decisions.
If you want, you can also visit the new "Library of the Port", where people give a second life to books, which remains open all years-round.
At Network Yacht Broker Barcelona, we propose other plans, which are also fun and curious, in accordance with the new guidelines. 
Follow us to know what is the Stiges summer plan in the next post:
@NetworkYachtBrokerBarcelona 
We look forward to answering any queries and giving you information about buying or renting a boat en Stiges with Network Yacht Broker Barcelona.
Links:
Network yacht Broker Barcelona 
---